Central Lobão S.A. is a Portuguese company specialized in hand tools, power tools, equipment, and accessories, focused on the construction area, DIY, agricultural-garden, protection equipment and lightening. With its own brands and thousands of references on the portfolio it is, evidently, a privileged and competitive supplier at a global scale.

With the most advanced facilities – over 20.000 m2 of construction area e robotized logistic platform – and a functional and agile organizational model, with a team of specialized professionals, highly committed with the companies' and the customers' success, allows us to develop its wide activities with the highest quality standards.

Clearly market and customer oriented, Central Lobão bets on a strategic management, value creation strategy, with its own brands, ranges, products and services, throughout integrated solutions trying to surprise and maximize the customers' and users' satisfaction, in a continuous way.
AREAS OF ACTIVITY
Focused on the construction area, DIY, garden and lightening, Central Lobão offers a natural and enlarged diversity of products. The presence in such diversified and complementary categories makes Central Lobão the client's buying first option, considering we are such a privileged and global supplier.

We are present on the following categories:
Hand / Mechanical and Industrial tools
Construction, painting, woodwork, cutting, electricity and welding tools
Protective and safety equipment
Measuring and levelling
Stowage and shelving
Hardware and fixing
Watering and garden tools
Agricultural tools
Auto
Electro-portable tools
Machinery and equipments
Agricultural-garden power tools
Electrical material
Lightening
BRANDS
The VITO, ASLO and ITOOLS brands, with a range of thousands of references, meet customer's needs with reliable solutions which ease their day-to-day and the accomplishing of their activities both professional and recreational, proving the quality and knowledge reached in over 20 years of experience.
VISION AND MISSION
To be an International Reference player, providing tools and equipment for construction, DIY, garden and lighting, offering global competitive and agile solutions.

To provide the best complete solution - product, service and price - in the markets where it operates, especially as a leading and trusted brand, ensuring sustainable development and sustainability of their businesses and partnerships and the full satisfaction of its customers and employees.
VALUES
Wolf´s Spirit
Deep values
Positional values
Relational values

Family roots
Boldness /Diversification of supply
Reliability / Quality

Competitiveness
Ambition / Growth
Agility

Efficiency / Reliability
Social and Environmental Responsibility
Cooperation spirit
Customer Satisfaction
Wolf´s strong perceptions of family
Wolf´s sense of smell for opportunity
Wolf´s High Levels Skills
WORLDWIDE PRESENCE
The export challenge has enhanced our skills and internal requirements. Nowadays we are present in dozens of countries. We have been strengthening our presence and we have a growing international affirmation. Currently, Central Lobão is one of the largest Portuguese companies in its sector, with a customer portfolio covering not only the national market, but also Angola, Algeria, Belgium, Cape Verde, Colombia, Côte d'Ivoire, Cuba (certain products may not be available here), Spain, France, Guadeloupe, French Guiana, Guinea, Morocco, Martinique, Mozambique, Romania, Malta, Luxembourg , Venezuela, United Arab Emirates, Tunisia, United Kingdom, Sao Tome and Principe, Greece and Cyprus.

It is the recognition of our competitive capabilities in today's global world.

ANGOLA
ALGERIA
BELGIUM
CAPE VERDE
COLOMBIA
COSTA DO MARFIM
CUBA
SPAIN
FRANCE
GUADALUPE
FRENCH
GUIANA
GUINEA
MOROCCO
MARTINIQUE
MOZAMBIQUE
ROMANIA
MALTA
LUXEMBOURG
VENEZUELA
UNITED ARAB EMIRATES
TUNISIA
UNITED KINGDOM
S. TOMÉ E PRINCIPE
GREECE
CYPRUS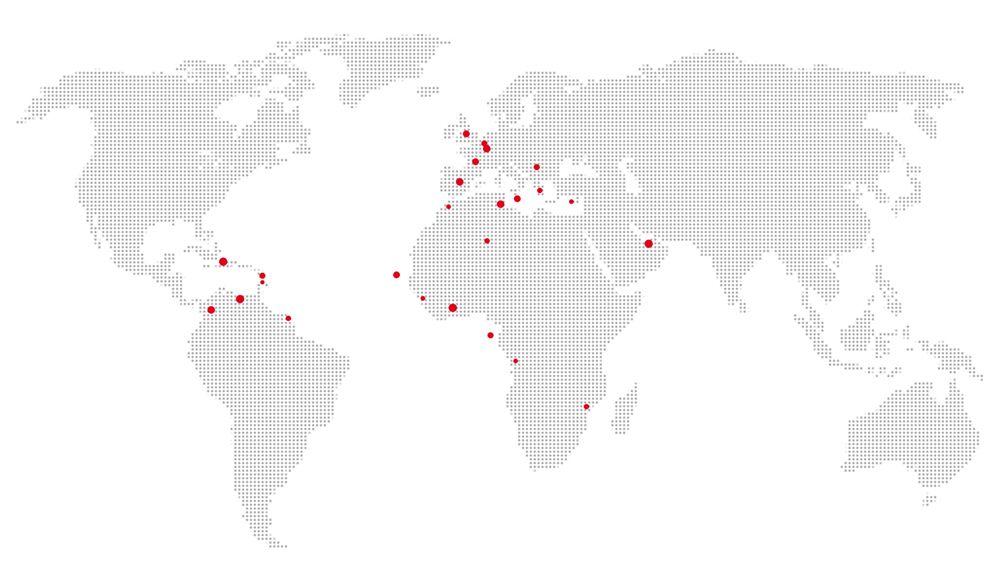 Portugal 2020 project – "PME" internationalization incentive system

Total investment: 707.530,72€
Eligible investment: : 658.168,28€
FEDER non-refundable incentive: 282.594,37€
FSE non-refundable incentive: 18.108,47€
The company considers this project as a relevant instrument to support and consolidate the internationalization as well as the external market prospection for new clients, aiming to increase the export share on the business turnover.

In this way, the market development strategy is based on the geographic diversification, reaching into markets with current unexpressive presence, or no presence at all.

Under this project's scope, we are supporting publicity actions on the 1st league football games, which are broadcasted on the Portuguese language channels, with higher visibility on the Portuguese speaking language countries in Africa. The publicity / communication actions supported by this program also cover the catalogue production and the creation of autonomous websites.

This project also supports the companies' participation in a variety of international events, with the clear objective of promoting its own brands, increase the visibility and notoriety of the company/brand and facilitate the approach to potential clients.